Belarus President Lukashenko Tests Positive For Covid-19
213 total views, 6 views today
Two Years After George Floyd's Murder, Biden To Sign Executive Order On Police Reform
Two years after African American George Floyd was murdered by a white police officer in a Minneapolis street, President Joe Biden will on Wednesday sign an executive order further regulating federal law enforcement.

The White House called the move "historic" in a press release, but the new executive order does not go as far as the major police reform Biden promised during his election campaign.

The text provides for the creation of a national register to list all reports, disciplinary procedures, and complaints concerning members of federal law enforcement agencies, the administration said.

US states and local authorities, which are endowed with extensive powers in matters of law enforcement, will be "encouraged" to also join the register and will be able to consult it.

The order also prohibits the use, again at the federal level, of carotid artery strangulation or compression techniques, except in exceptional situations.

It also limits law enforcement's ability to enter a property without due warning, a controversial policy known as "no-knock."

The Biden administration will also ask federal law enforcement agencies to expand the use of body cameras during arrests and searches and to release the images quickly in the event of a fatality.

The decree also states that lethal force should only be used when "necessary," and restricts the use of military equipment during police operations.

The date of the signing is highly symbolic, coming exactly two years after Floyd's death, which triggered huge nationwide demonstrations against racism and police brutality.

Biden will sign the executive order in the presence of members of Floyd's family, families of other victims of police brutality, and law enforcement officials, a senior White House official said.

Floyd died of asphyxiation after a police officer pressed his knee into his neck for more than nine minutes.

Biden had promised profound police reform on the campaign trail.

While the executive order allows him to bypass the problem of working a bill through Congress, where his Democratic party lacks a sufficient majority, it has a more limited scope and will only apply on the federal level, to the dismay of groups battling racism and police violence.
1,930 total views, 126 views today
UPDATE: Texas Shooting: Families In Anguish After 19 Students, Two Adults Killed In Attack At US Primary School (See Photos)
…;Children Dying As If 'On A Battlefield', Biden Reacts
…'Enough Is Enough', Says Kamala Harris 
Relatives turned to social media and waited in a desperate attempt to find their missing children as the death toll in a gruesome school shooting at a Texas elementary school rose to at least 19 students. Authorities said the gunman also killed two adults.
Hours after the attack, families were still awaiting word on their children. Outside the town civic centre, where families were told to gather, the silence was broken repeatedly by screams and wailing. "No! Please, no!" one man yelled as he embraced another man.
Adolfo Cruz, a 69-year-old air conditioning repairman, was still outside Robb Elementary School in the town of Uvalde on Tuesday night as the sun set, waiting for word on his 10-year-old great-granddaughter, Elijah Cruz Torres, whose whereabouts remained unknown to family.
Cruz drove to the scene after receiving a tearful and terrifying call from his daughter shortly after the first reports that an 18-year-old gunman had opened fire. While he waited outside the school on Tuesday night, his family was at the hospital and civic centre waiting for any potential word on her condition.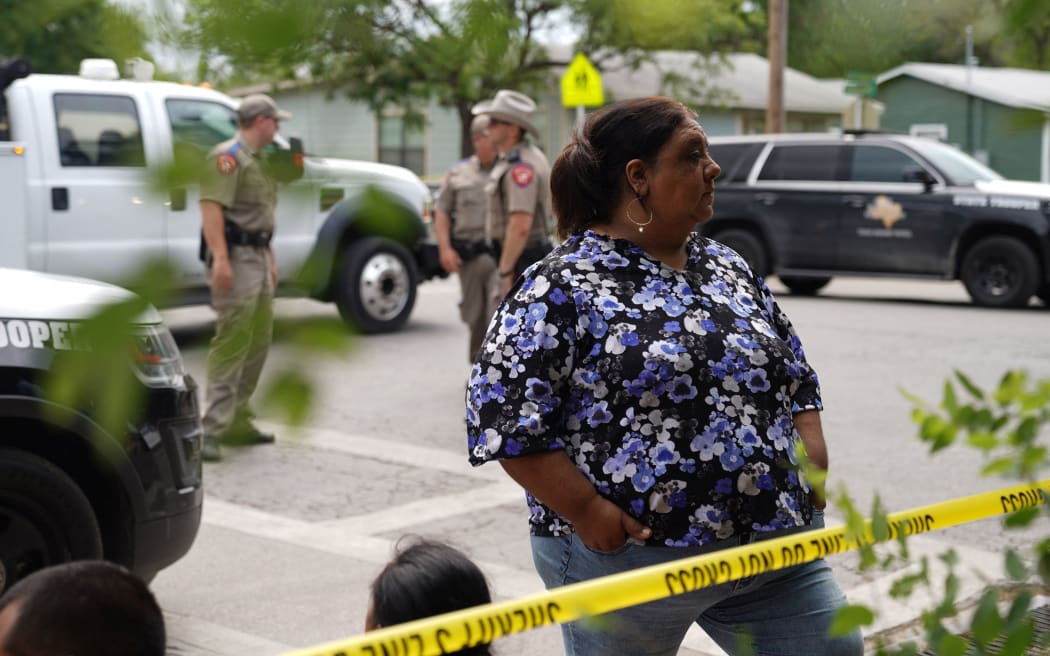 Çruz called the waiting the heaviest moment of his life. "I hope she is alive," Cruz said. "They are waiting for an update."
"It's a shock for me. I also feel for all the other families. This is a small community. Uvalde has always been real friendly. People are real friendly," Cruz said.
On social media, pictures of smiling children were posted, their families begging for information. Classes were winding down for the year and each school day had a theme. Tuesday's was Footloose and Fancy. Students were supposed to wear a nice outfit with fun or fancy shoes.
By nightfall, names of those killed during the attack were beginning to emerge. Fourth-grade teacher Eva Mireles was remembered as a loving mother and wife.
"She was adventurous. I would definitely say those wonderful things about her. She is definitely going to be very missed," said 44-year-old relative Amber Ybarra, of San Antonio.
Ybarra was preparing to give blood for the wounded and was pondering how no one was able to spot possible problems in the shooter in time to stop him.
"To me, it's more about raising mental health awareness," said Ybarra, a wellness coach who attended the elementary school where the shooting happened. "Someone could possibly have seen a dramatic change before something like this happened."
Hillcrest Memorial Funeral Home, which is located across the street from Robb Elementary School, said in a Facebook post on Tuesday evening that it would be assisting families of the shooting victims with no cost for funerals.
Meanwhile, US President Joe Biden who has returned home today from a visit to Japan told a media briefing at the White House that Americans would not forget anyone who stood in the way of gun reforms.
"When in God's name are we going to stand up to the gun lobby?
"I am sick and tired of it. we have to act. Don't tell me we can't have an impact on this carnage.
"The idea that an 18-year-old kid can walk into a store and buy two assault weapons is just wrong.
"These kinds of mass shootings rarely happen anywhere else in the world."
A visibly shaken Biden asked Americans to pray for the children of Uvalde tonight.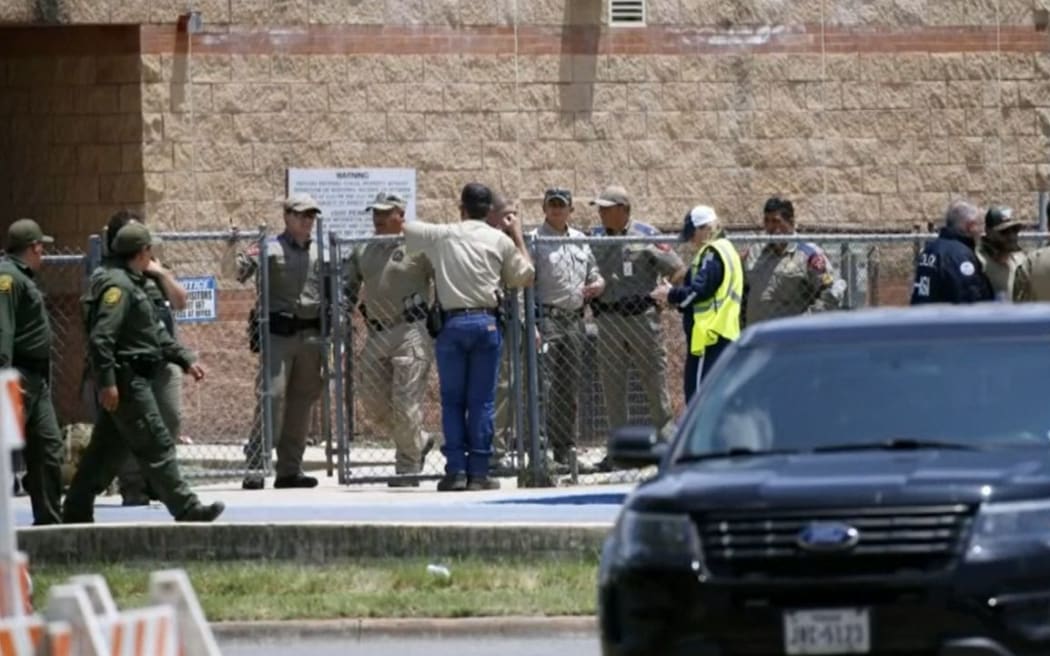 He began his remarks by praising the "beautiful, innocent" children who had been shot, and their traumautised pupils who watched "friends die as if they're in a battlefield".
Biden has ordered the US flag to be flown at half-mast until sunset on Saturday following the mass shooting.
In a statement, he ordered US flags across all public buildings and grounds, military posts and naval stations, and all naval vessels to be flown at half mast, as well as flags at embassies, consular offices and military and naval facilities in the US and abroad.
US Vice-President Kamala Harris called for "reasonable and sensible" policies to ensure other mass shootings don't happen.
Speaking at an event in Washington DC on Tuesday night, Harris said "every time a tragedy like this happens, our hearts break … and yet it keeps happening".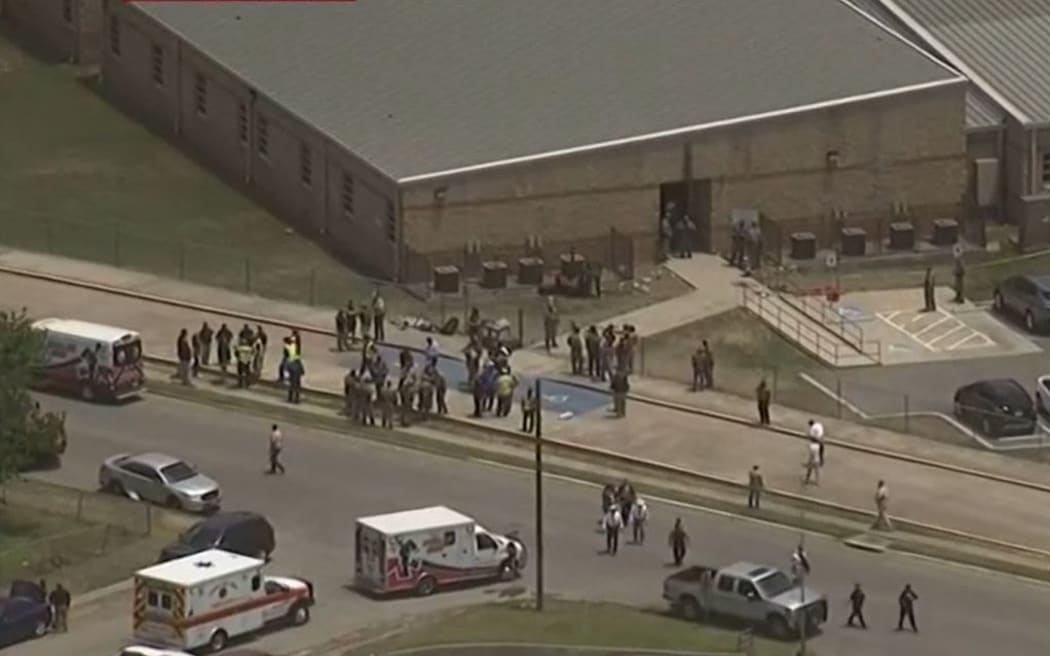 "Enough is enough," she said. "As a nation, we have to have the courage to take action, and understand the nexus between what makes for reasonable and sensible public policy, to ensure something like this never happens again."
In a tweet reacting to the shooting, former presidential candidate Hillary Clinton said "we are becoming a nation of anguished screams".
She called for gun control: "We simply need legislators willing to stop the scourge of gun violence in America that is murdering our children."
Credit: stuff.co.nz
3,260 total views, 129 views today
Biden Accuses Putin Of Planning To Eliminate Ukraine's Identity
United States President, Joe Biden, on Monday, accused President Vladimir Putin of Russia of trying to destroy Ukraine's identity.

According to Biden, this is as witnessed by Russian bombardments of civilian targets such as schools, hospitals, daycare centres and museums.

"I believe what Putin is attempting to do is to eliminate the identity of Ukraine.

"He can't occupy it, but he can try to destroy its identity,'' Biden said in Tokyo.

Biden said "Putin must pay a dear price for his barbarism in Ukraine,'' in order to deter others from taking similar action, in reference to military tensions around Taiwan.

He was speaking at a joint news conference with Japanese Prime Minister, Fumio Kishida.
2,441 total views, 126 views today