I'll Never Appear Before South Africa's Anti-Graft Panel, Says Ex President, Zuma
South Africa's beleaguered ex-president Jacob Zuma vowed Monday to not appear before a judicial panel probing corruption during his nine-year tenure, defying a court order compelling him to testify.

Zuma, 78, has played cat-and-mouse with the commission since it was set up in 2018 to investigate looting of state coffers during his rule.

He accuses the commission of bias and has demanded that its chair, Deputy Chief Justice Raymond Zondo, recuse himself from the anti-graft inquiry.

However, Zondo has dismissed the calls, saying Zuma failed to make a case that he was being unfair.

The commission "can expect no further cooperation from me in any of their processes going forward," Zuma said in a statement.

Zuma, while highlighting his anti-apartheid exploits, said he was ready for "the law to take its course" and did not fear being arrested, convicted or incarcerated.

"The wrath visited upon me as an individual knows no bounds," said Zuma, adding that his children and associates had also been "targeted and harassed" as their bank accounts were closed.

South Africa's top court on Thursday ordered him to appear before the Zondo commission, ruling that he had no right to remain silent during the proceedings.

But Zuma argued that the court decision rendered him completely defenceless.

"It is clear that the laws of this country are politicised even at the highest court in land," Zuma said.

He said he "never imagined that there would come a time when a democratic government in South Africa… would behave exactly like the apartheid government in creating legal processes designed to target specific individuals in society".

Zuma, who came to power in 2009, was forced to resign in 2018 over graft scandals involving an Indian business family, the Guptas — who won lucrative contracts with state companies and were allegedly even able to choose cabinet ministers.

He set up the commission shortly before his ouster and only testified before it once in July 2019, but staged a walkout days later.

Since then, Zuma has not testified again, citing health concerns or preparation for another corruption case related to a 1990s arms deal which will resume this month.

AP
294 total views, 3 views today
Black Thursday As Gunman Attacks Daycare Centre, Kills 23 Children In Thailand
At least 30 persons have been killed after a gunman opened fire on a daycare facility in Thailand on Thursday, a police spokesperson has confirmed.

Police Major General Achayon Kraithong said the assailant, an ex-police officer, shot and stabbed his victims in Nong Bua Lamphu, northeastern Thailand.

A motive has yet to be determined, although reports suggest the officer had been dismissed recently.

So far, 26 deaths have been confirmed, which include 23 children, two teachers and one police officer, according to a spokesperson for a regional government agency.
451 total views, 451 views today
Putin Signs Agreement On Russia's Annexation Of Four Ukrainian Regions
RUSSIA'S President Vladimir Putin today presided over a signing ceremony to incorporate four occupied Ukrainian regions, despite wide condemnations.

The Kremlin said Luhansk, Donetsk, Zaporizhzhia and Kherson backed annexation in five-day referendums.

In his speech before the signing in the St George's Hall of the Kremlin, Putin declared, "This is the will of millions of people. People living in Luhansk, Donetsk, Kherson region and Zaporizhzhia region are becoming our compatriots forever."

However, the US has vowed never to recognise Russia's annexation of Ukraine, which it described as a landgrab, and promised to impose more sanctions on the country.

"The United States, I want to be very clear about this, will never, never, never recognise Russia's claims on Ukraine sovereign territory," the U.S. President Joe Biden said.

The ceremony took place three days after the completion of hastily staged so-called referendums in which Moscow's proxies in the occupied regions claimed majorities of up to 99 per cent in favour of joining Russia.

Ukraine and Western governments said the votes, announced only 10 days ago, had been conducted at gunpoint and were bogus and illegitimate.

Ukraine, the United States and the head of the United Nations have all said the annexation ceremony had no legal value, with Kyiv describing it as a "Kremlin freak show."

UN's secretary general António Guterres had warned Russia that annexing Ukrainian regions would mark a "dangerous escalation" that would jeopardise the prospects for peace in the region, and would have no legal value.

Ukraine's military said it was withholding details until the situation was stabilised, but that an operation was underway to encircle Russian forces in the area.

"All the approaches and logistic routes of the enemy, through which they delivered ammunition and manpower, are in fact under fire control of the Ukrainian army," said Serhii Cherevatyi, a spokesperson for Ukrainian troops in the east.
2,873 total views, 242 views today
Queen Elizabeth II Died Of Old Age, Death Certificate Shows
Britain's Queen Elizabeth died of old age, according to her death certificate, which was published by the National Records of Scotland on Thursday.

Elizabeth, Britain's longest-reigning monarch, died peacefully at the age of 96 at Balmoral Castle, her summer home in the Scottish highlands, on Sept. 8. read more

The certificate records her time of death as 3.10 p.m. (1410 GMT)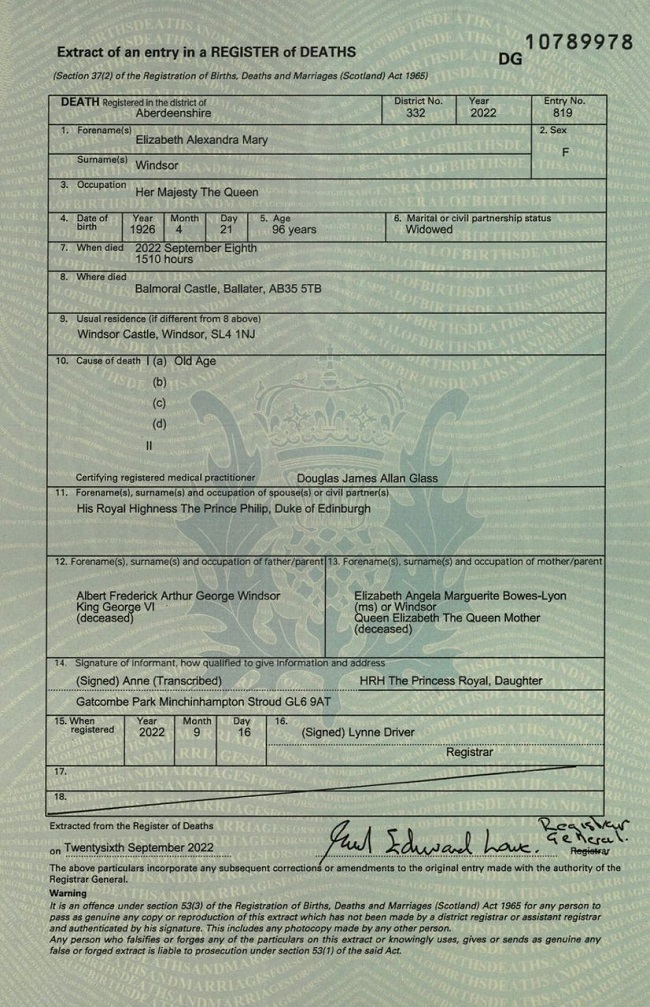 Buckingham Palace had released a statement just after 12.30 p.m. that day to say doctors were concerned about the queen's health and that she would remain under medical supervision. Her death was officially announced at 6.30pm.

She had carried out her last official duty, appointing Liz Truss as prime minister, just two days earlier.

The queen, who spent 70 years on the throne, had been suffering from what Buckingham Palace had called "episodic mobility problems" since the end of last year, forcing her to withdraw from nearly all her public engagements.

The certificate shows her death was registered by her daughter, Princess Anne, on Sept. 16.
3,263 total views, 245 views today