UPDATE: Texas Shooting: Families In Anguish After 19 Students, Two Adults Killed In Attack At US Primary School (See Photos)
…;Children Dying As If 'On A Battlefield', Biden Reacts
…'Enough Is Enough', Says Kamala Harris 
Relatives turned to social media and waited in a desperate attempt to find their missing children as the death toll in a gruesome school shooting at a Texas elementary school rose to at least 19 students. Authorities said the gunman also killed two adults.
Hours after the attack, families were still awaiting word on their children. Outside the town civic centre, where families were told to gather, the silence was broken repeatedly by screams and wailing. "No! Please, no!" one man yelled as he embraced another man.
Adolfo Cruz, a 69-year-old air conditioning repairman, was still outside Robb Elementary School in the town of Uvalde on Tuesday night as the sun set, waiting for word on his 10-year-old great-granddaughter, Elijah Cruz Torres, whose whereabouts remained unknown to family.
Cruz drove to the scene after receiving a tearful and terrifying call from his daughter shortly after the first reports that an 18-year-old gunman had opened fire. While he waited outside the school on Tuesday night, his family was at the hospital and civic centre waiting for any potential word on her condition.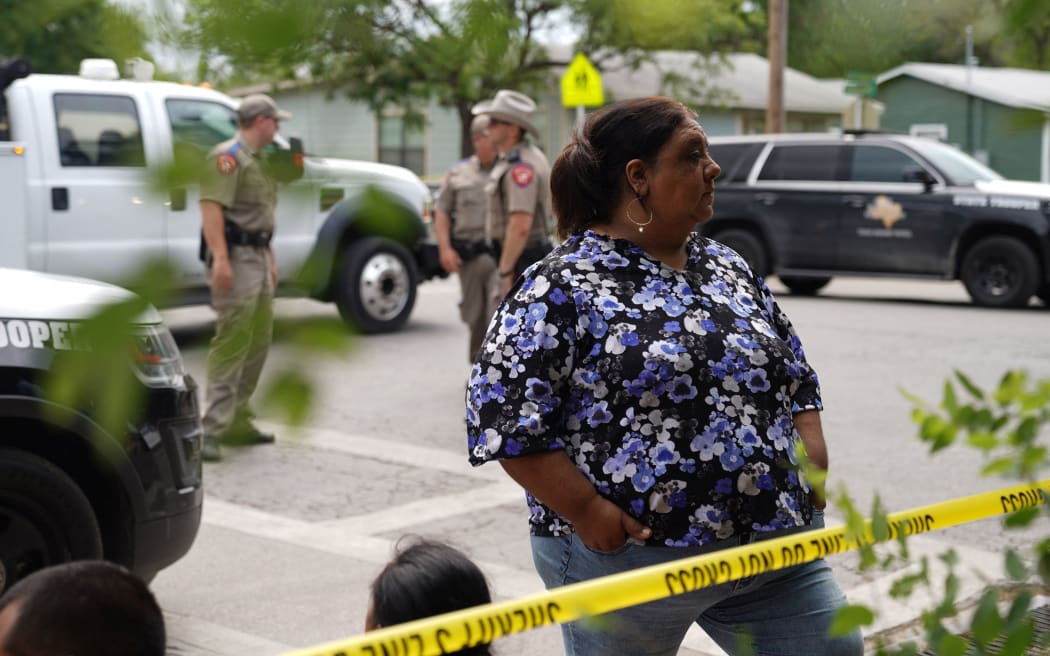 Çruz called the waiting the heaviest moment of his life. "I hope she is alive," Cruz said. "They are waiting for an update."
"It's a shock for me. I also feel for all the other families. This is a small community. Uvalde has always been real friendly. People are real friendly," Cruz said.
On social media, pictures of smiling children were posted, their families begging for information. Classes were winding down for the year and each school day had a theme. Tuesday's was Footloose and Fancy. Students were supposed to wear a nice outfit with fun or fancy shoes.
By nightfall, names of those killed during the attack were beginning to emerge. Fourth-grade teacher Eva Mireles was remembered as a loving mother and wife.
"She was adventurous. I would definitely say those wonderful things about her. She is definitely going to be very missed," said 44-year-old relative Amber Ybarra, of San Antonio.
Ybarra was preparing to give blood for the wounded and was pondering how no one was able to spot possible problems in the shooter in time to stop him.
"To me, it's more about raising mental health awareness," said Ybarra, a wellness coach who attended the elementary school where the shooting happened. "Someone could possibly have seen a dramatic change before something like this happened."
Hillcrest Memorial Funeral Home, which is located across the street from Robb Elementary School, said in a Facebook post on Tuesday evening that it would be assisting families of the shooting victims with no cost for funerals.
Meanwhile, US President Joe Biden who has returned home today from a visit to Japan told a media briefing at the White House that Americans would not forget anyone who stood in the way of gun reforms.
"When in God's name are we going to stand up to the gun lobby?
"I am sick and tired of it. we have to act. Don't tell me we can't have an impact on this carnage.
"The idea that an 18-year-old kid can walk into a store and buy two assault weapons is just wrong.
"These kinds of mass shootings rarely happen anywhere else in the world."
A visibly shaken Biden asked Americans to pray for the children of Uvalde tonight.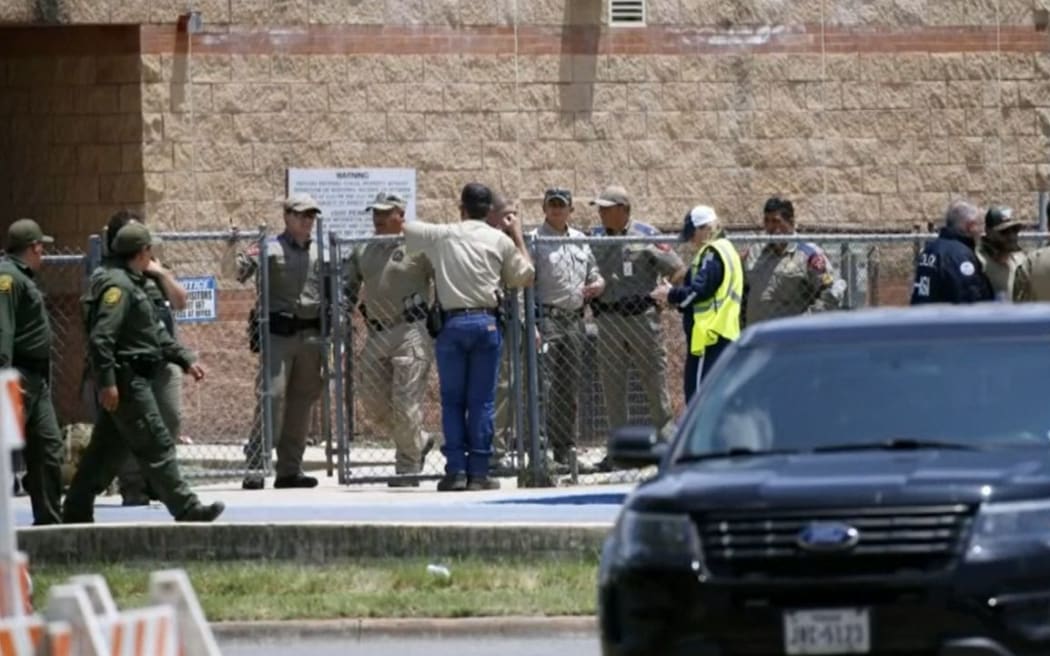 He began his remarks by praising the "beautiful, innocent" children who had been shot, and their traumautised pupils who watched "friends die as if they're in a battlefield".
Biden has ordered the US flag to be flown at half-mast until sunset on Saturday following the mass shooting.
In a statement, he ordered US flags across all public buildings and grounds, military posts and naval stations, and all naval vessels to be flown at half mast, as well as flags at embassies, consular offices and military and naval facilities in the US and abroad.
US Vice-President Kamala Harris called for "reasonable and sensible" policies to ensure other mass shootings don't happen.
Speaking at an event in Washington DC on Tuesday night, Harris said "every time a tragedy like this happens, our hearts break … and yet it keeps happening".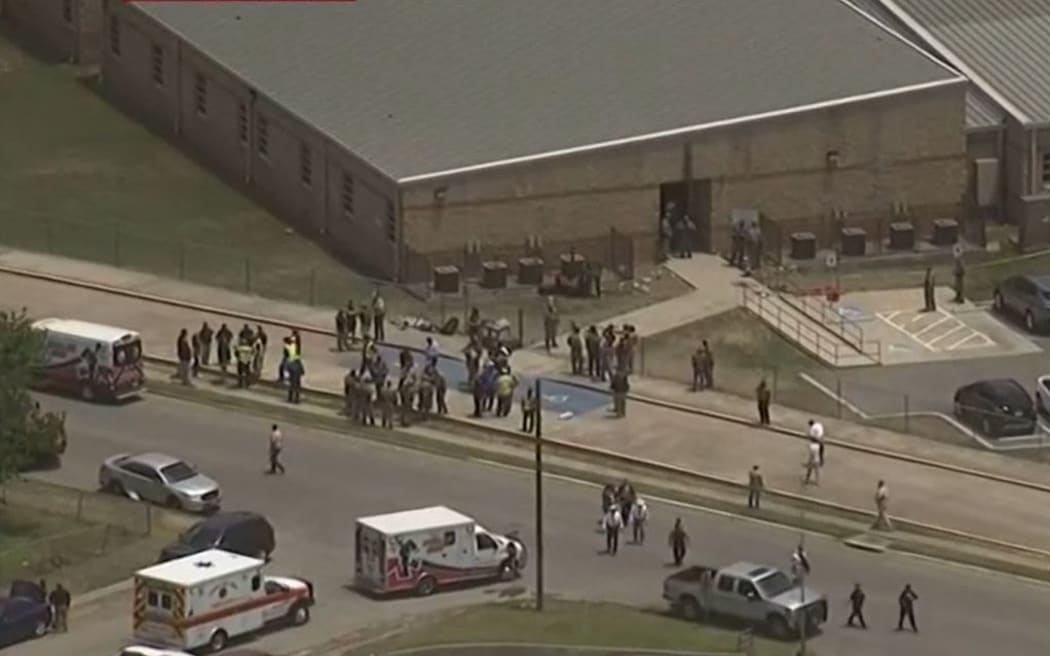 "Enough is enough," she said. "As a nation, we have to have the courage to take action, and understand the nexus between what makes for reasonable and sensible public policy, to ensure something like this never happens again."
In a tweet reacting to the shooting, former presidential candidate Hillary Clinton said "we are becoming a nation of anguished screams".
She called for gun control: "We simply need legislators willing to stop the scourge of gun violence in America that is murdering our children."
Credit: stuff.co.nz
4,198 total views, 3 views today
How Funke Akindele's Broken Marriage May Affect Her Political Ambition
It is no longer news that Funke Akindele Bello and her husband, Abdulrasheed Bello, known as JJC Skilz, have parted ways over irreconcilable differences.

According to the statement released earlier this morning by JJC Skillz, he and his wife are no longer together because she had refused to settle their differences amicably even after putting on a lovely front at the 2022 Africa Magic Viewers Choice Awards (AMVCA).

"Dear Friends and family I need to let you know that Funke and I have separated. While it lasted we shared a lot of things together and have created 2 beautiful children. The last two years have been extremely difficult for us. I know I have tried my best to fix things but I believe it is beyond repair now. 3 months ago and at Funkes insistence I moved out of the house and apart from AMVCA have not been able to get Funke to sit down in an amicable manner to discuss the future of our relationship. I'm making this announcement so that the public is clear that we both are pursuing separate lives. We still have issues that need to be addressed such as the custody and wellbeing of our children which is paramount as well as business interests which need to be disentangled but I have no doubt that these will be resolved one way or the other

Mr Abdul Bello"

Numerous reports trailing this development have alleged both sides of been faulty in their marriage breakup saga.

Different online reports cited infidelity, ego and mismanagement of funds as the central theme of Funke Akindele and JJC Skillz's separation.

Recall that Funke Akindele had refused to speak concerning the update released by her husband on social media. However, the actress and mother of two had maintained her husband's surname on her Instagram profile.

One of the concerns raised by Funke Akindele's fans was her budding political ambition.

It is unclear if her broken marriage will affect her selection as the deputy governor of Lagos state for the upcoming general elections.

Also the Jenifa's Diary crooner was nominated alongside four others as deputy governors for the Peoples Democratic Party gubernatorial candidate for the upcoming Lagos State elections.

The shortlisted names include Funke Akindele, popularly known as Jenifa; former governorship aspirant Gbadebo Rhodes-Vivour; former Senatorial candidate for Lagos East, Yeye Shobajo, another governorship aspirant, David Kolawole Vaughan known as DAKOVA, and Engr. Teslim Balogun.

At the time of this report, Funke Akindele has yet to disclose or divulge any news regarding her marriage or political ambition.
25 total views, 25 views today
Fresh PDP crisis: Why Wike, Ortom Shouldn't Be Attacked, Omokri Speaks
A former presidential aide, Reno Omokri, on Thursday said "nobody in the Peoples Democratic Party (PDP), should disparage" Governors Nyesom Wike and Samuel Ortom.

Recall that according to Omokri, both men "laboured to build" the PDP.

"Stooping to conquer is not weakness. Nobody in the PDP should disparage Wike or Ortom. They should be appealed to and listened to. The PDP ought to seek to understand them. And then to accommodate them. When people who labour to build get angry, you embrace them!" Omokri said via a Twitter post.

The opposition party went into another round of crisis after its presidential candidate, Atiku Abubakar, picked Governor Ifeanyi Okowa of Delta State as his running mate for the 2023 elections.

The development has degenerated into a full-blown disagreement among party leaders with Ortom, the Governor of Benue State, asking Atiku to 'appease' Wike, Rivers State governor, who came second in the presidential primary election in May.

In a similar vein, Ayodele Fayose, a former Governor of Ekiti State, and presidential aspirant, also dumped Atiku, and expressed his support for a Southern candidate, increasing speculations that he'll throw his weight behind the candidature of Bola Tinubu of the All Progressives Congress (APC).
25 total views, 25 views today
Alleged Assault: Portable Reports Self At Ogun Police Station
Hip-hop singer Habib Okikiola, also known as Portable, has reported himself at the Ogun State Police Command, Eleweran in Abeokuta, the state capital.

"The police wishes to inform the general public that the hip-hop artist Habib Okikiola a.k.a portable who was requested to report himself at the nearest police station over a viral video where he was seen ordering a group of boys to beat up one boy simply identified as D.J Chicken has reported at the command's headquarters Eleweran on Wednesday 29th of June 2022," a Thursday statement by the command's spokesman, Abimbola Oyeyemi, read.

He said that Portable was accompanied by his father and manager when he reported at Eleweran at about 5 pm.

The singer was taken to the Public Complaint Bureau Office by the Commissioner of Police, Lanre Bankole, where he was interrogated about his role in the assault melted to the boy in the video.

"However, since the offence committed is a bailable one, and coupled with the strike action embarked upon by the civil servants in the state which also affected our courts, the suspect was released to a reliable surety who promised to produce him anytime he is needed," Abimbola added.

The victim has also been invited by the police to state his own side of the story to enable the command complete her investigation on time, the spokesperson said.
78 total views, 78 views today